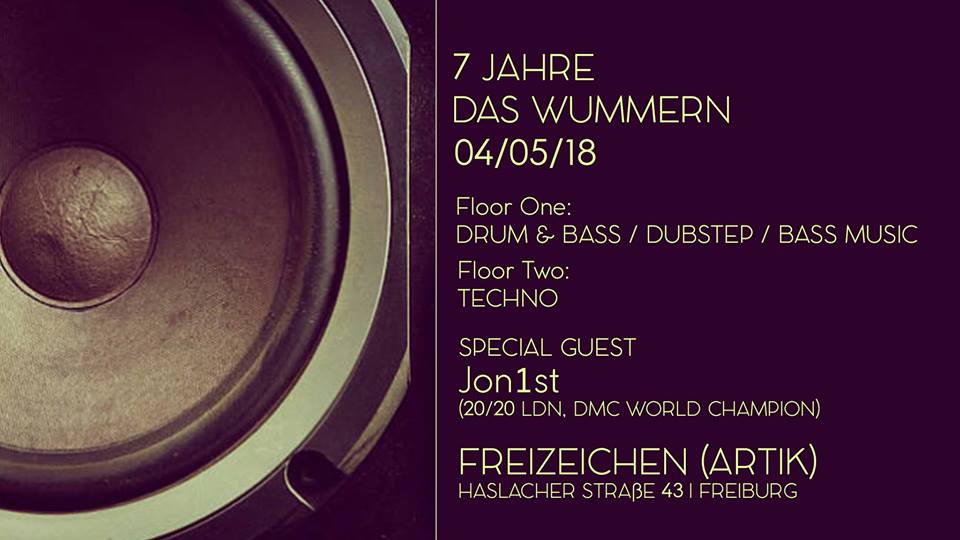 Audio Bullet präsentiert …
7 JAHRE DAS WUMMERN
Floor One:
Drum & Bass / Dubstep / Bass Music
► Jon1st (@20/20 LDN, DMC World Champion)
► URTE
► VAG CREW
► Klimax, Dava, Rusty (Das Wummern / Audio Bullet Recordings)
Visuals: Marco Zampella (zoon VJ Team)
Soundsystem mit zusätzlicher Bassleistung
Floor Two:
Techno
► Kornreaktor (Survival Tactics)
► Moraline (Survival Tactics / Amos)
► Wodka-Joe (Mighty Pressure Crew)
► Berg Blumenthal
► Synetic (Mighty Pressure Crew)
Info Jon1st
**************
Through his upfront track selection and unrivalled technical ability, Jon1st has quickly built a reputation as a 'DJ's DJ'. His club sets see him effortlessly blend together influences from across the alternative electronic music spectrum, all the while incorporating breath taking technical skills developed through his background as a World-DMC-title-winning turntablist.
In addition to holding down a monthly podcast with Liverpool based label Fly High Society, Jon's mixes have been featured on established platforms such as Ninja Tune's Solid Steel, Kutmah's Sketchbook Radio, Serato's Seratocast, Noisey, Hyponik, DJ Mag, NTS, DJsounds, Radar Radio and Foreign Beggars' Par Excellence Radio Show. His sets have also recently caught the attention of drum and bass/half time beats supergroup Ivy Lab, who have swiftly made him a resident at their 20/20 club night in London.
Alongside a busy touring schedule, Jon's has used his turntable skills, which won him the 2013 World Online DMC Championships, to perform official scratch re-fixes of Ivy Lab, DJ Vadim and Sam Binga, the latter being incorporated into a track on Sam's debut LP on Critical Music, and create preview mixes for releases on Original Cultures and Groovement. He was also recently headhunted by Pioneer alongside turntable legends Jazzy Jeff, The Beat Junkies, Qbert and DJ Kentaro to test and showcase the launch of the company's new DJM-S9 battle mixer and PLX-1000 turntables.
In addition to his solo efforts, Jon is also one third of production trio, GOALS, alongside EAN (Cosmic Bridge/Med School) and Will LV (Brownswood/Hyperdub/Keysound).
https://www.mixcloud.com/jon1st/
https://soundcloud.com/jon1st
https://www.youtube.com/user/djjon1st
https://www.facebook.com/DJJon1st
www.facebook.com/daswummern
www.facebook.com/audiobulletrecordings