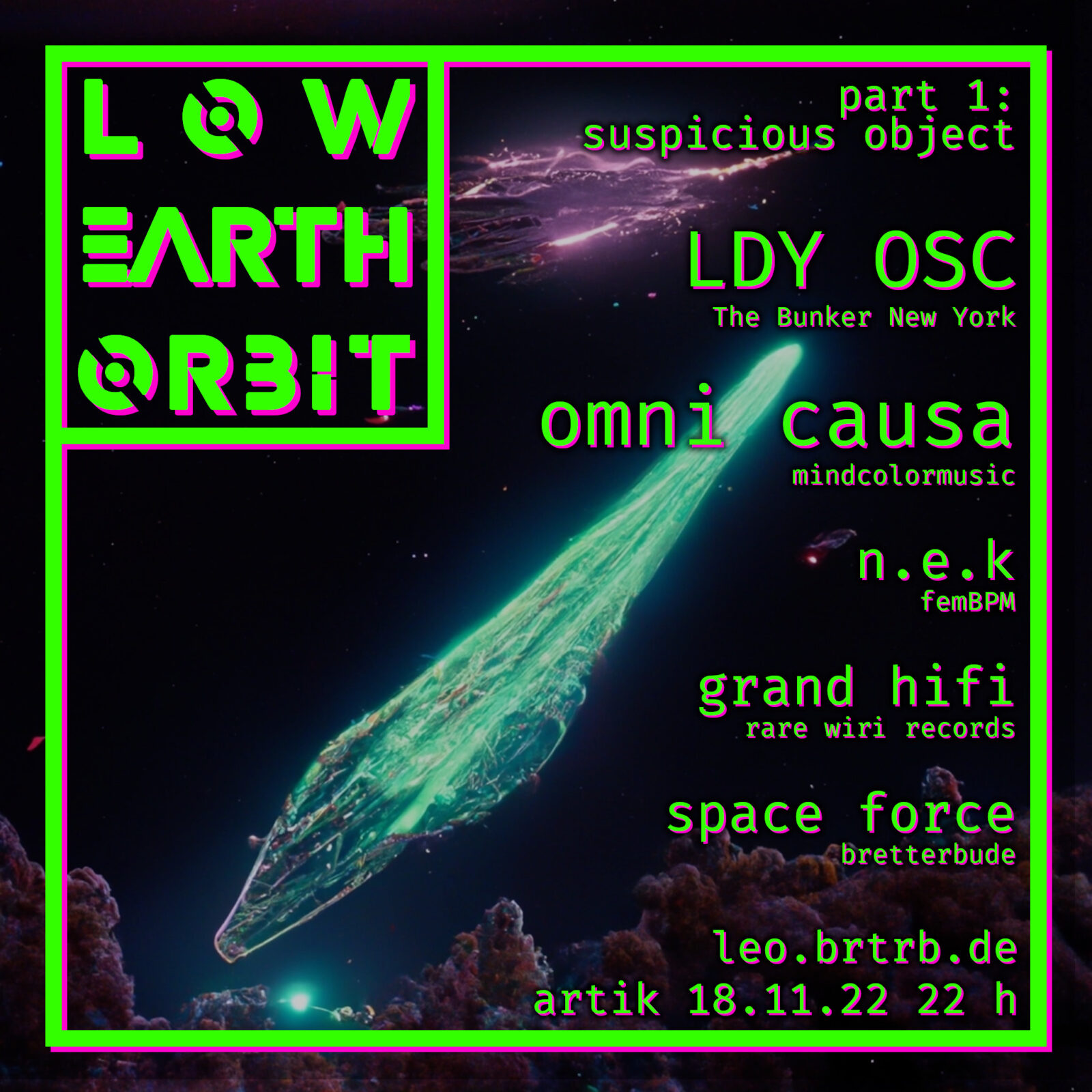 LOW EARTH ORBIT – part 1: suspicious object
It was a usual night for Cleo. Years, seeing nothing but noise from that Xuntian thingy up there, in low earth orbit. An older, captured radio satellite, open to use by the community listening into space. A journey of randomness and nothing but noise. And some artifacts. Wait a minute, what? […]
Crawling from forgotten labs and computer basements, bringing fresh sounds, hailing from deep space and imagination:
>>IONOSPHERE – elektro – 0 h
> n.e.k [freiburg – femBPM]
>> soundcloud.com/user-613170265
> LDY OSC [vienna – The Bunker New York, Kontra-Musik, Squirrels on film…]
> space force [freiburg – bretterbude – lutz b2b patman]
>>OUTER SPACE – braindance, breaks, idm, weird, 22 h
> omni causa [stuttgart, head of mindcolormusic – 4 h label showcase]
>> soundcloud.com/mindcolormusic
> grand hifi [rare wiri records]
>> tickets eventim-light.com/de/a/5c9b93761eb12100019af58a/e/635279c15efdd577f92f086e
We're happy to have DROBS IN SPACE at our journey
>Drobs in Space<
Partyprojekt & Safer Nightlife
Eine Initiative der Drogenhilfe Freiburg
Info Lounge zu Substanzen & Safer Use
In space is NO space for ANTISEMITISM, RACISM, SEXISM or any other form of discriminiation. NO TERFS. You can talk at any point to us or artik staff if you don't feel comfortable.
LEO is part of the bretterbu.de project.