╣ Trancedimension ╠

Trance, das ist die Musik, die gute Laune macht. Die Musik, die verbindet , die Alle zum tanzen bringt.
Die bedingungslos ballert, aber einen nach einer durchfeierten Nacht mit einem dicken Grinsen verschwitzt zurücklässt.
Um euch genau mit diesem Gefühl heim zu schicken, habn wir niemand geringeres als Aexhy und Disc-Jogga ins ArTik eingeladen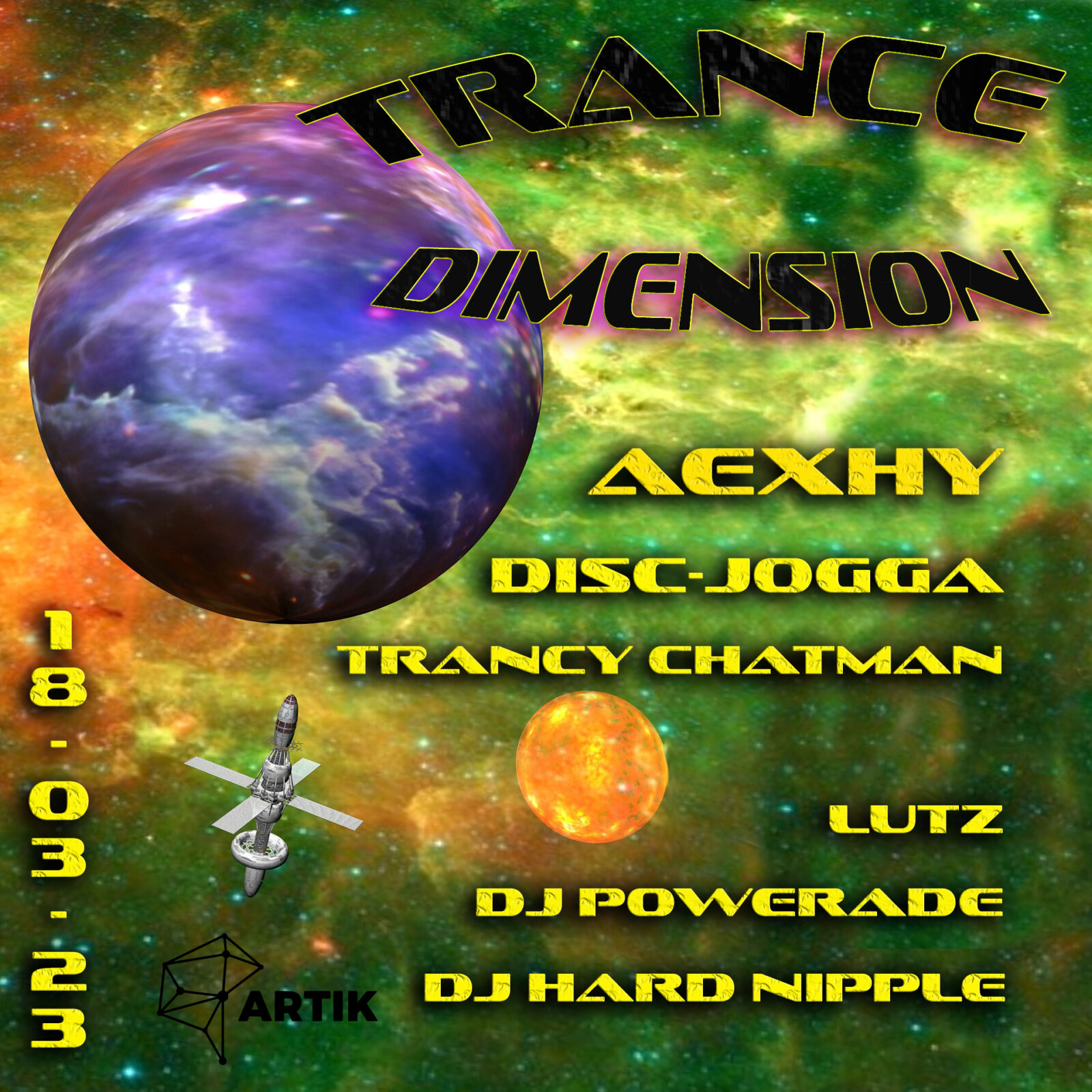 ╣ Auditorium: Trance Stage ╠
╣ Aexhy (Hardcore Entertainment | Syndikaet | Publicenergy | para//e/ )╠
Aexhy has been a long time in the scene as a dj which motivated him to push further and start his career as a producer. In his Productions and in his sets you can clearly notice what Aexhy is made of. Playfully guiding you through all styles which inspire him, Aexhy pushes his and our boundaries and combines everything in a playful style to suprise you each minute. Constantly rising energy and letting it drop just to change to another style to capture your emotions and make you feel something.
https://www.instagram.com/aexhy_9999
╣ Disc-Jogga (Basel) ╠
Dario-Julian aka Disc-Jogga will close the party for us. He has been dreaming of his first gig for about 4 years. Inspired by the 90s like all kinds of fast driving sounds from Turbo Trance, Hardtekk, Tribecore to UK/Early Hardcore he now steps out into the public after his personal transformation.
With his vision "Back to the Future", he wants to contribute to a new community of the ever-evolving electronic music scene, in which one finds more openness, connection to living beings and nature as well as the resulting humanity. For him, being a harmonious human being comes before his music.
This perspective serves as his absolute drive, for music as well as his personality, to open his heart more and more and thus contribute to a better future.
With Newskool Trance to Oldskool sounds, you can join him on an emotional journey "Back to the Future".
https://www.instagram.com/disc_jogga/
╣ Trancy Chatman (Odonien Records | viva la trance | Mighty Pressure Crew )╠
Trancy Chatman is founder of the Trance Party Series 'viva la trance' and 'Trancedimension'. Inspired by the 90s, motivated by the forming scene around the Tranceatzen Sachsentrance he wants to expand the bubble and bring these vibez down to the south. Having FUN, taking everything not so serious and bringing colors, fancy outfits and oldschool hairstyles back to the dancefloor.
where Trancy Chatman will be reminding us why trance hasn't been revived, because it never died to begin with.
https://www.instagram.com/trancy_chatman
__________________________________________________________________________________________________________________
╣ Empore:  Breakbeat / Rave / Hard Dance ╠
╣ DJ Powerade (Impuls Crew) ╠
Inspired by sweet childhood memories of the refined taste of Powerade Blue on vacations in Italy, DJ and producer DJ Powerade strives to recreate this sublime experience on today's dancefloors. Specializing on Electro, Dembow, Breakbeat, Reggaeton, Techno, Trance and hits of all kinds, the member of Impuls Crew Freiburg delivers juicy sounds that make dancefloors go loco and booties bounce. Sometimes hard, sometimes sensual; sometimes trashy, sometimes serious; rhythmically diverse but never cryptic; and always 100 % Mountain Blast approved.
https://www.instagram.com/dj_powerade/
╣  DJ Hard Nipple (Impuls Crew)╠
Tasty delivery of heavy bass with a bouncy mixture of breaks, uk garage, and trance with some hot donk notes on top🍒
https://www.instagram.com/totport_/
╣  Lutz  (Bretterbude e.V.)╠
kkkrzrzrzzrzzuzzkkrracckkchghakackabioascaaggaaaanzzznzz
https://www.instagram.com/waitinglutz/
Start: 11pm
Presale: Click here!
__
We are looking forward to see you on the dancefloor!
NO SEXISM! NO RACISM! NO TERFS/SWERFS! NO BULLSHIT!