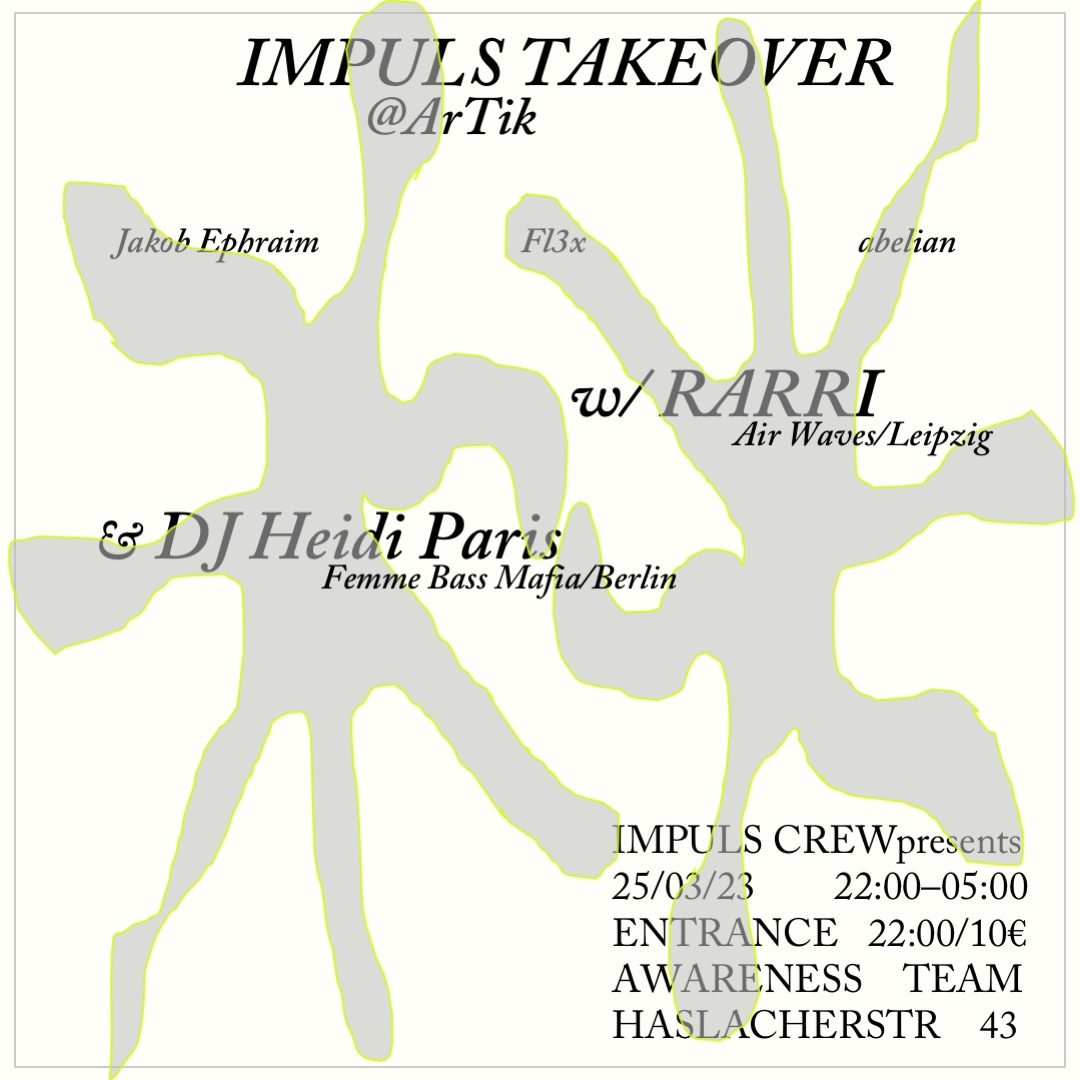 +++ 25.3. Impuls Takeover @ ArTik +++
Attention: because of switch to summer time the party starts at 22:00 – so come early since one hour is stolen from us at the end!
Only a few more weeks until we get to dance together at ArTik again and this time we've invited two ex-Freiburgers to come back home for a visit – Juri and Livia aka RARRI and DJ Heidi Paris.
In addition, we've invited local newcomer Jakob Ephraim to play alongside our crew members Fl3x and abelian on the top floor. As usual you can expect anything from Techno, Electro and Breaks to UK Bass, Hard Drum, Dembow and Footwork. 🙂
Due to the time change at 2:00, Jakob Ephraims and RARRIs set times appear 1 hour longer.
_Empore_
2200-0000 abelian
0000-0300 Jakob Ephraim
0300-0500 Fl3x
_Auditorium_
2300-0100 DJ Heidi Paris
0100-0400 RARRI
0400-0500 b2b
RARRI  is a Leipzig-based DJ and the founder of Air Waves , a platform for modern club music he started 6 years ago in Freiburg. At that time more focused on modern hip hop mutations, he's since shifted his focus to electronic music while maintaining his forward-thinking ethos and keeping an open mind to different styles. His sets are heavily UK-flavoured, but with his far-reaching and diverse selection you can expect just about anything that's not typical house and techno.
He currently hosts a monthly show on Callshop Radio, you can check out his past shows and mixes here !
DJ Heidi Paris always had great taste and finally started DJing after taking part in the first Femme Bass Mafia mentorship programme. Since then she's been developing her sound, a vibrant mix of broken beats with a foundation of driving electro, techno and bass. Over the last year she's been playing all over Berlin with her FBM crew members, her sets can be found here !
Jakob Ephraim is originally a jazz drummer and used to host a radio show covering Jazz and Neo Soul at Radio StHörfunk in his hometown. He's been DJing since moving to Freiburg and is going to make his club debut at our party! As a drummer, syncopated rhythms and breaks are part of his DNA and are strongly reflected in his sets together with a healthy dose of techno. You can listen to some of his recordings here .
Start: 11pm
Presale: Click here!
__
We are looking forward to see you on the dancefloor!