╣ Trancedimension ╠

Trance, das ist die Musik, die gute Laune macht. Die Musik, die verbindet , die Alle zum tanzen bringt.
Die bedingungslos ballert, aber einen nach einer durchfeierten Nacht mit einem dicken Grinsen verschwitzt zurücklässt.
Um euch genau mit diesem Gefühl heim zu schicken, haben wir diesmal unseren ersten internationalen Act 'John Mood' (NL) und Multitalent 'Multifun' (Berlin), die außerdem dieses geile Artwork entworfen hat, eingeladen.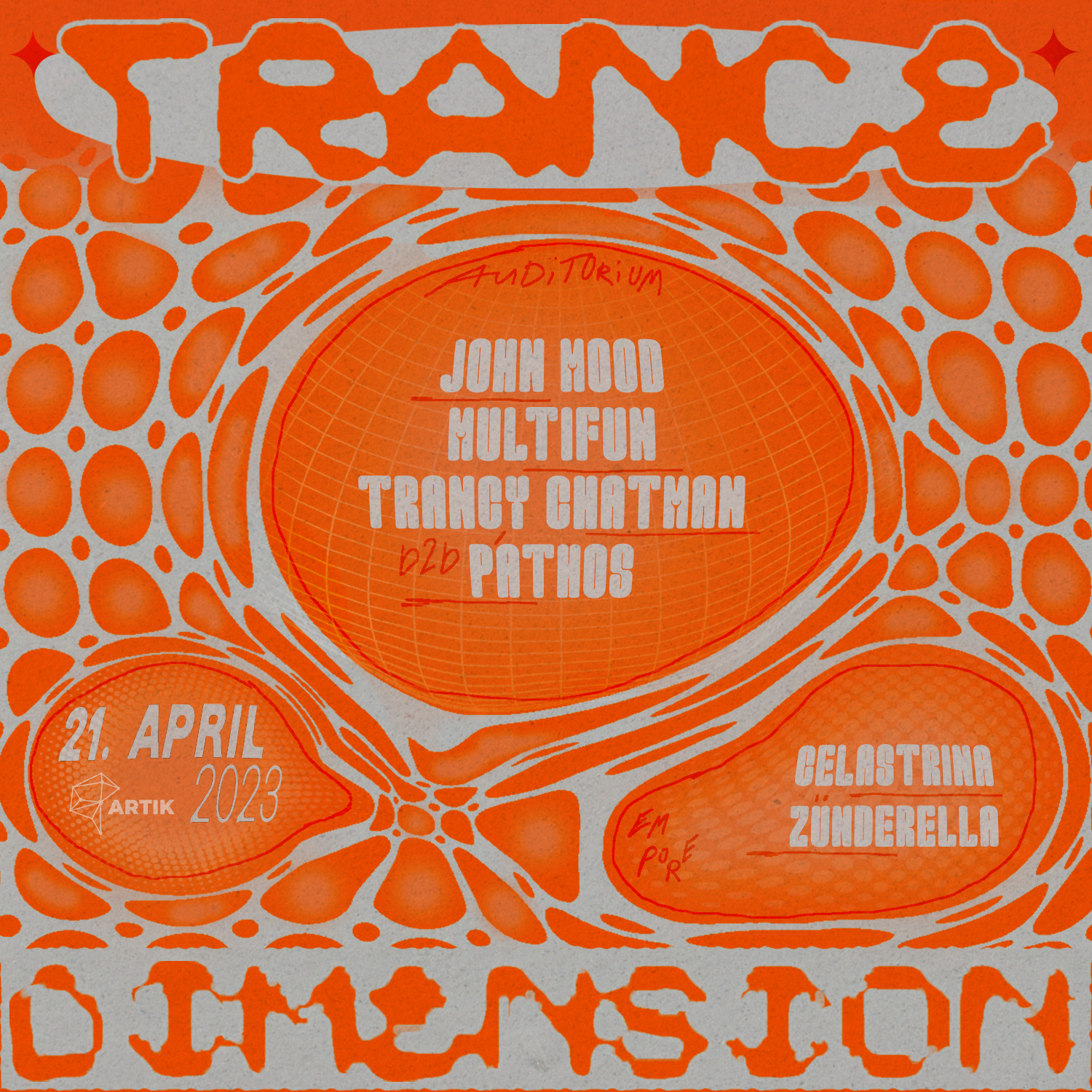 ╣ Auditorium: Trance Stage ╠
╣ John Mood (NL)╠
John Mood is a Producer/DJ born and raised in the Netherlands. This hitmachine from Arnhem has a mixture of playful Eurodance & Trance that gets the dancefloor lovers going. His own productions like 'God is a Woman', 'Me & U' and 'Do It' are breathtaking masterpieces which are played already all over the globe and seduces the hearts of every crowd.
Don't be moody shake your booty!
https://www.instagram.com/johnmood1/
╣ Multifun (Multimix / Hardcore Entertainment | Berlin) ╠
Multifun is a DJ, the host of the Multimix podcast series and a graphic designer based in Berlin. Before she started mixing back in 2019, she was already digging for many years, especially 90's House, Trance and Rave, which influenced her style the most. Depending on the mood she aims to express today, her sound is always energetic and genre-bending. She has a focus on fast (progressive) Trance, Rave, Psy, Techno and in- between Happy Hardcore as well as Breakbeats. Her selections are characterized by pumping kicks, dreamy sound carpets and cheesy vocals with some experimental elements here and there, trying to surprise the audience with much Multifun.
https://www.instagram.com/multimix.fun/
╣ Trancy Chatman (Odonien Records | viva la trance | Mighty Pressure Crew )╠
Trancy Chatman is founder of the Trance Party Series 'viva la trance' and 'Trancedimension'. Inspired by the 90s, motivated by the forming scene around the Tranceatzen Sachsentrance he wants to expand the bubble and bring these vibez down to the south. Having FUN, taking everything not so serious and bringing colors, fancy outfits and oldschool hairstyles back to the dancefloor.
where Trancy Chatman will be reminding us why trance hasn't been revived, because it never died to begin with.
https://www.instagram.com/trancy_chatman
╣ páthos (viva la trance) ╠
cheezy euphoria over speeding basses. something with trance and heartache, shedding a tear allowed.
his sets range from 90s classics to hard trance tunes and his own productions. freiburg, germany based dj and producer páthos is bringing trance back. everyone agrees!!1!
https://www.instagram.com/dj.pathos/
__________________________________________________________________________________________________________________
╣ Empore:  Eurodance / 90's + 00's Trance / Hardtrance ╠
╣ Celastrina (FemBPM) ╠
https://www.instagram.com/alma.celastrina/
╣  Zünderella ╠
https://www.instagram.com/zuenderella__/
Start: 11pm
Presale: Click here!
__
We are looking forward to see you on the dancefloor!
NO SEXISM! NO RACISM! NO TERFS/SWERFS! NO BULLSHIT!