╣ Trancedimension ╠

Trance, das ist die Musik, die gute Laune macht. Die Musik, die verbindet , die Alle zum tanzen bringt.
Die bedingungslos ballert, aber einen nach einer durchfeierten Nacht mit einem dicken Grinsen verschwitzt zurücklässt.
Um euch genau mit diesem Gefühl heim zu schicken, haben wir diesmal 'Paraçek' und 'Hyeena', mit einem analogen Live Set, eingeladen.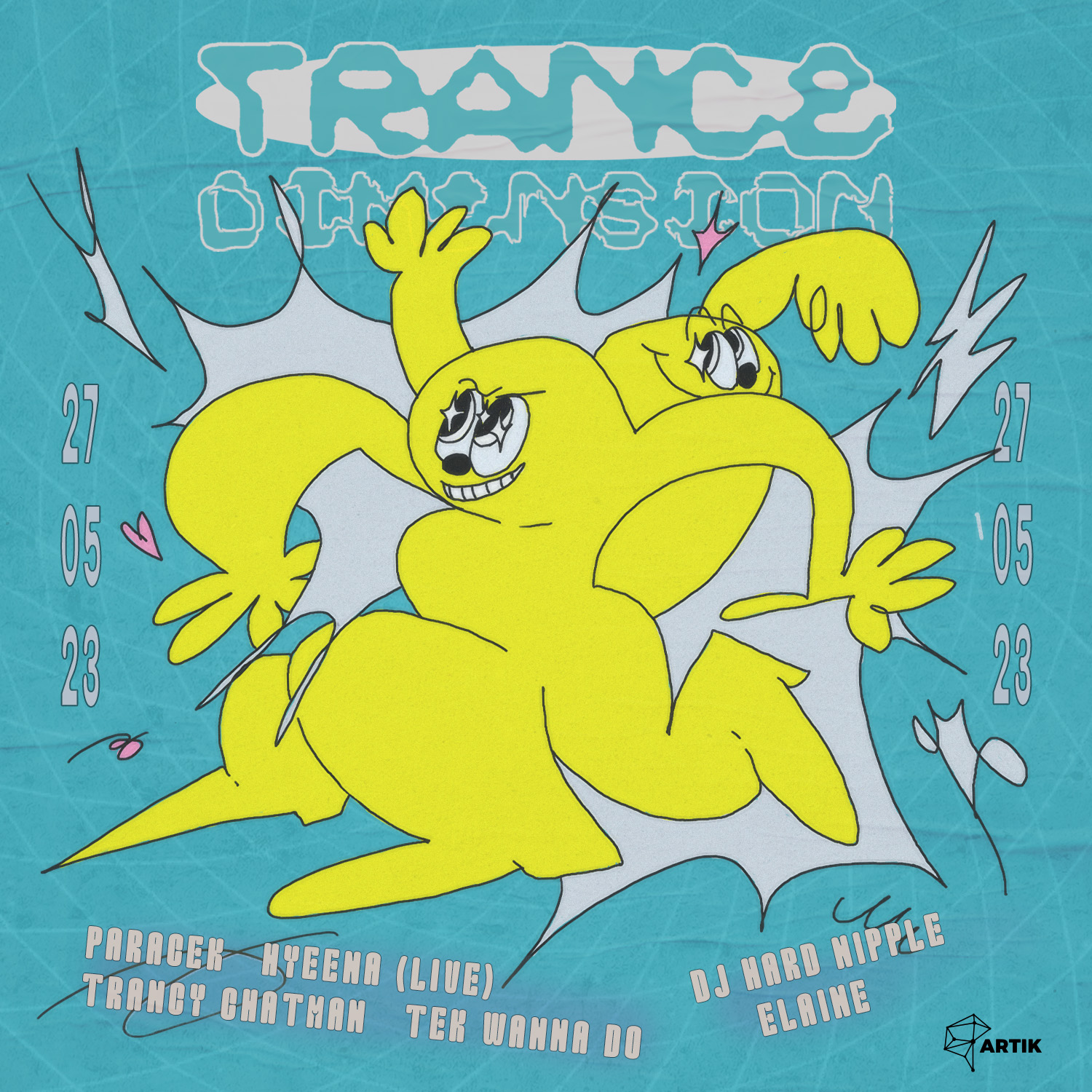 ╣ Auditorium: Trance Stage ╠
╣ Paraçek (Trancekraft4000 / Dresden)╠
Paraçek's signature style of fast Hard Dance mixed with 90's Trance and Acid Rave developed in the free rave scene of Leipzig and Dresden, where he is based now.
His sets are dripping with vocals, euphoric synths and juicy bass lines.
Mixing and performing with an overflowing energy, he combines oldschool catchy tunes and the new hot stuff with a wink.
Currently he is focusing on his brand new event series Trancekraft4000.
https://soundcloud.com/paracek
https://www.instagram.com/paracek_official/
╣Hyeena (Odonien Records / Köln) ╠
Hyeena is a Live Performing & DJ duo from Cologne coming at you with a fast and
forward take on club music.
Distorted kicks, huge trance leads, and gabberesque sounds inspired by the dutch club sound & early hardcore scene emanate from their arsenal of hardware synthesisers.
Their songwriting is heavily influenced by the live performance process and brings the unfiltered energy from their machines into the track recordings and back to you at the dancefloor.
So far they have released on their own labels; Planet Sauvage & Odonien Records. With their residency and booking curatorship at Odonien Records Label Nights they are shaping Cologne´s electronic scene through their approach to raw & progressive club music.
Bend over, it's time to get spanked.
https://soundcloud.com/hy33na
https://www.instagram.com/_hyeena_/
╣ Tek wanna do (Leipzig) ╠
Tek wanna do (barom b2b clju_2k) started DJing together in 2021. While Barom already djs and produces UK bass-music for many years, clju_2k pushed the sound of the duo with forward, high BPM sounds. Together they play a wild energtic mix which is influenced by a wide variety of genres and many good vibes.
╣ Trancy Chatman (Odonien Records | viva la trance | Mighty Pressure Crew )╠
Trancy Chatman is founder of the Trance Party Series 'viva la trance' and 'Trancedimension'. Inspired by the 90s, motivated by the forming scene around the Tranceatzen Sachsentrance he wants to expand the bubble and bring these vibez down to the south. Having FUN, taking everything not so serious and bringing colors, fancy outfits and oldschool hairstyles back to the dancefloor.
where Trancy Chatman will be reminding us why trance hasn't been revived, because it never died to begin with.
https://soundcloud.com/trancy_chatman
https://www.instagram.com/trancy_chatman
__________________________________________________________________________________________________________________
╣ Empore:  Groove / Breakbeat ╠
╣ elaine (Rand und Band Kollektiv / Freiburg) ╠
elaine's journey began as part of the FLINTA* collective Rand und Band in Berlin. Her sound evolved from melodic rhythms to driving and bouncy groove techno, while staying true to her love for percussive, athmospheric sounds. elaines current focus in Freiburg lies on connecting with other FLINTA* artists and spaces, as well as raving with awareness – so let's riot and dance.
https://soundcloud.com/evelaine
https://www.instagram.com/veraxelaine/
╣  DJ Hard Nipple (Impuls Crew)╠
Tasty delivery of heavy bass with a bouncy mixture of breaks, uk garage, and trance with some hot donk notes on top🍒
https://soundcloud.com/djhardnipple
https://www.instagram.com/totport_/
Start: 11pm
Presale: Click here!
__
We are looking forward to see you on the dancefloor!
NO SEXISM! NO RACISM! NO TERFS/SWERFS! NO BULLSHIT!