╣ little Trancedimension ╠ (1Floor)

Trance, das ist die Musik, die gute Laune macht. Die Musik, die verbindet , die Alle zum tanzen bringt.
Die bedingungslos ballert, aber einen nach einer durchfeierten Nacht mit einem dicken Grinsen verschwitzt zurücklässt.
Leider hat uns unserer Headliner Narciss kurzfristig abgesagt… aber auch ohne Headliner wollen wir die Party durchziehen, hoffen auf euren Support und präsentieren euch DJ Zugzwang als Newcomerin und Headlinerin gleichzeitig, umrahmt von 2 wilden b2b Actions.
╣ Auditorium: Trance Stage ╠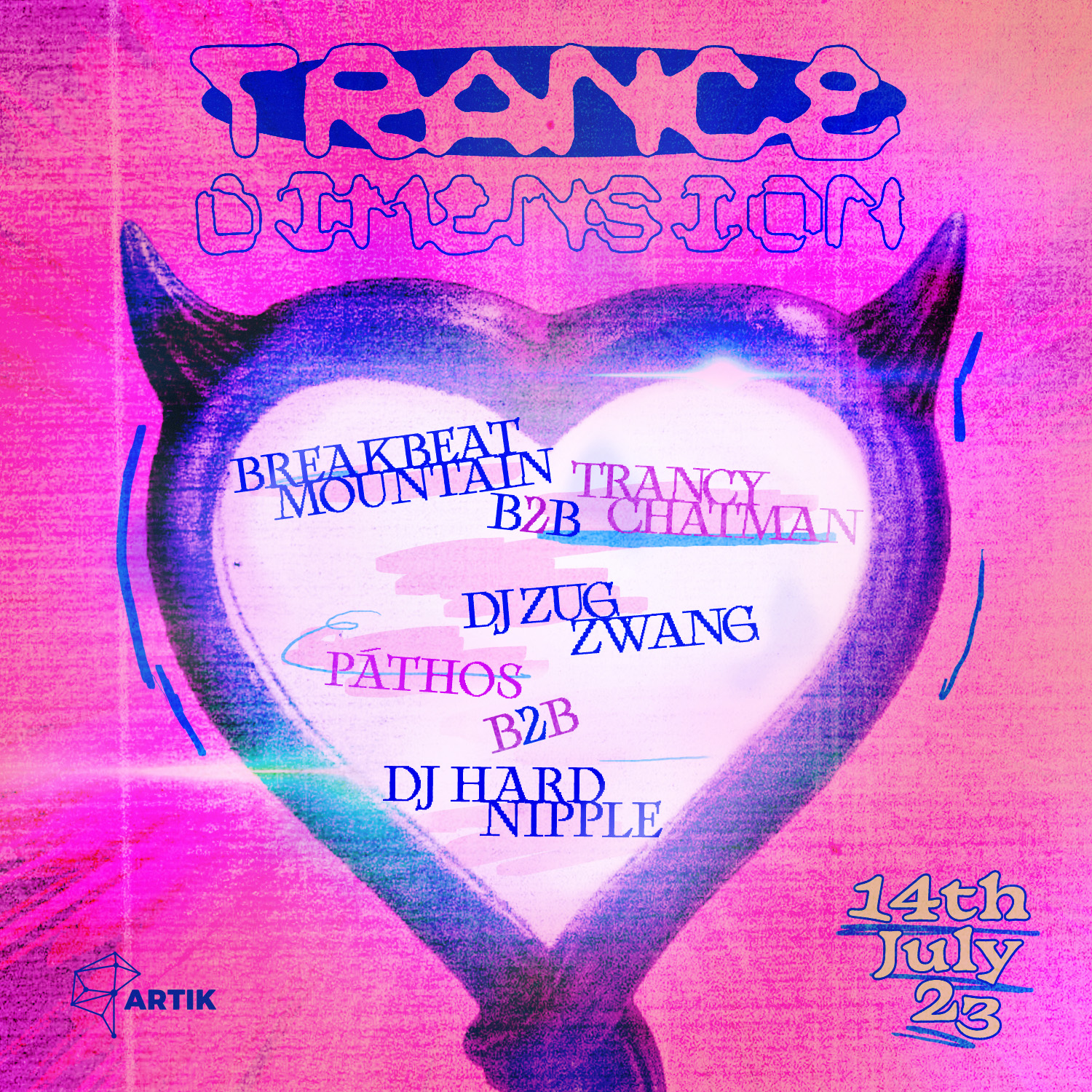 ╣DJ Zugzwang╠
DJ ZugZwang is a Freiburg based DJ and producer. She started out with producing Hip Hop and Indie Rock Beats but quickly fell in love with the sound of groovy fast paced Techno and Trance. Her sound is strongly influenced by her past in Hip Hop and her love to dance to funky and groovy music. Be ready to let your body loose to a mixture of percussive Hardgroove and Trance with a touch of Breakbeat bringing back colorful, fun and queer Techno to the dancefloor
https://soundcloud.com/dj_zugzwang
https://www.instagram.com/_zug_zwang
╣Breakbeat Mountain ╠
Back from the rocketship with even more energy:
Breakbeat Mountain is more than ready to let loose with an refreshing set full of trance energy with lots of well timed Pop / Trap – edits, breakbeat as a side dish and a pinch of donk on top of it. Call it a Breaky Dreierlei. Everything is served faster than 150 BPM, so put on your dancing shoes and lets party together.
https://soundcloud.com/joni-herrmann
https://www.instagram.com/breakbeat_mountain/
╣ páthos (viva la trance) ╠
kitschige euphorie auf schnellen bässen. irgendwas mit trance und herzschmerz, tränchen verdrücken schon ok.
von 90s klassikern über hard dance tunes bis zu eigenen produktionen ist alles dabei.
freiburger producer, dj sowie gründer und host der partyserie 'viva la trance' páthos bringt frischen wind auf die tanzfläche und trance wieder auf die karte. alle sagen das!!1!
https://soundcloud.com/djkontaktverbot
https://www.instagram.com/dj.pathos/
╣  DJ Hard Nipple (Impuls Crew)╠
Tasty delivery of heavy bass with a bouncy mixture of breaks, uk garage, and trance with some hot donk notes on top🍒
https://soundcloud.com/djhardnipple
https://www.instagram.com/totport_/
╣ Trancy Chatman (Odonien Records | viva la trance | Mighty Pressure Crew )╠
Trancy Chatman is founder of the Trance Party Series 'viva la trance' and 'Trancedimension'. Inspired by the 90s, motivated by the forming scene around the Tranceatzen Sachsentrance he wants to expand the bubble and bring these vibez down to the south. Having FUN, taking everything not so serious and bringing colors, fancy outfits and oldschool hairstyles back to the dancefloor.
https://soundcloud.com/trancy_chatman
https://www.instagram.com/trancy_chatman
__________________________________________________________________________________________________________________Lineup:
11 – 1 Breakbeat Mountain b2b Trancy Chatman
1 – 3 DJ Zugzwang
3 – 5 DJ Hard Nipple b2b páthos
Start: 11pm
Presale: Click here!
__
We are looking forward to see you on the dancefloor!
NO SEXISM! NO RACISM! NO TERFS/SWERFS! NO BULLSHIT!