╣ Trancedimension ╠

Trance, das ist die Musik, die gute Laune macht. Die Musik, die verbindet , die Alle zum tanzen bringt.
Die bedingungslos ballert, aber einen nach einer durchfeierten Nacht mit einem dicken Grinsen verschwitzt zurücklässt.
Diesmal für euch am Start, ALWAYS 8:15.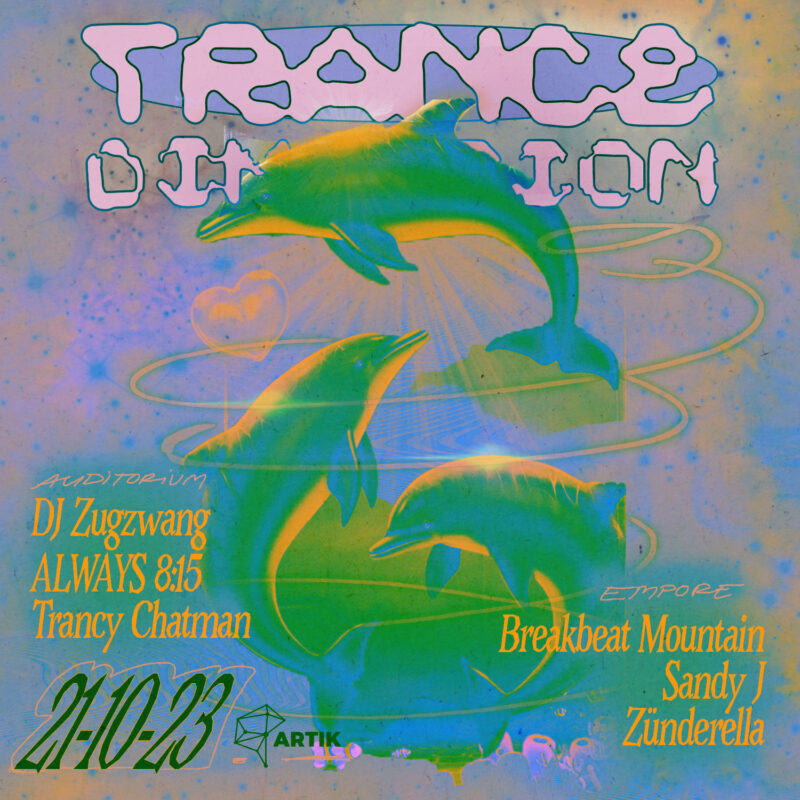 ╣ Auditorium: Trance Stage ╠
╣ALWAYS 8:15╠
Glasgow-based producer and DJ, ALWAYS 8:15, brings a euphoric energy to the dancefloor, taking inspiration from a whole host of genres from Eurodance and Trance to Ambient Works and 80s New Wave. ALWAYS 8:15 brings these influences together in order to produce a unique sound that expresses personality and emotion throughout his music and DJ sets.
https://soundcloud.com/always815
https://www.instagram.com/always8.15
╣DJ Zugzwang╠
DJ ZugZwang is a Freiburg based DJ and producer. She started out with producing Hip Hop and Indie Rock Beats but quickly fell in love with the sound of groovy fast paced Techno and Trance. Her sound is strongly influenced by her past in Hip Hop and her love to dance to funky and groovy music. Be ready to let your body loose to a mixture of percussive Hardgroove and Trance with a touch of Breakbeat bringing back colorful, fun and queer Techno to the dancefloor
https://soundcloud.com/dj_zugzwang
https://www.instagram.com/_zug_zwang
╣ Trancy Chatman (Odonien Records | viva la trance | Mighty Pressure Crew )╠
Trancy Chatman, DJ promoter and founder of the trance party series "viva la trance" and "Trancedimension" in Freiburg, delivers juicy sounds that get dance floors moving and butts jumping. Sometimes hard, sometimes sensual, sometimes trashy, sometimes bouncy; Always fast, but never too serious and 100% fun. Inspired by the 90s, motivated by the emerging scene around the Tranceatzen Sachsentrance, he goes beyond his and your limits and combines everything in a playful style to surprise you every minute. Trance digga yeah yeah
https://soundcloud.com/trancy_chatman
https://www.instagram.com/trancy_chatman
—————————————————————————————————————————————
╣ Empore: Breakbeat/ Trance / Harddance / Donk ╠
╣Breakbeat Mountain ╠
Back from the rocketship with even more energy:
Breakbeat Mountain is more than ready to let loose with an refreshing set full of trance energy with lots of well timed Pop / Trap – edits, breakbeat as a side dish and a pinch of donk on top of it. Call it a Breaky Dreierlei. Everything is served faster than 150 BPM, so put on your dancing shoes and lets party together.
https://soundcloud.com/joni-herrmann
https://www.instagram.com/breakbeat_mountain/
╣ Zünderella ╠
Zünderella, a newcomer from Freiburg who has already enjoyed small appearances, is always fast. Their actual style is described by many as radically melodic. Her sets, which range from hard trance to neo-rave to happy hardcore, were particularly celebrated. The main thing is over 150 bpm.
https://soundcloud.com/zuenderella
https://www.instagram.com/zuenderella__/
╣ Sandy J (Krachgarten e.V.)  ╠
Sandy J ended up behind the decks in the course of her performance "human wash". In 2019 she shapeshifted into a sponge for the first time to wash and clean festival guests while dancing. Shortly after, the idea of the WaschFloor was born and with it the Washno came to life. Over the past few years, the Krachgarten Collective enriched the festival landscapes with the generous act of taking care of your hygiene while partying.
What began with sponges, children's songs and Techno has since expanded into a serious passion. Hop on the fun train and dance with Sandy J to a melodious noise mix of Donk, Harddance, Trance and Techno-Hits which will make your heart beat faster!
https://soundcloud.com/sannasand
https://www.instagram.com/sannasand_/
__________________________________________________________________________________________________________________
Start: 11pm
Presale: Click here!
__
We are looking forward to see you on the dancefloor!
NO SEXISM! NO RACISM! NO TERFS/SWERFS! NO BULLSHIT!