SYLP x ArTik – Halloween Edition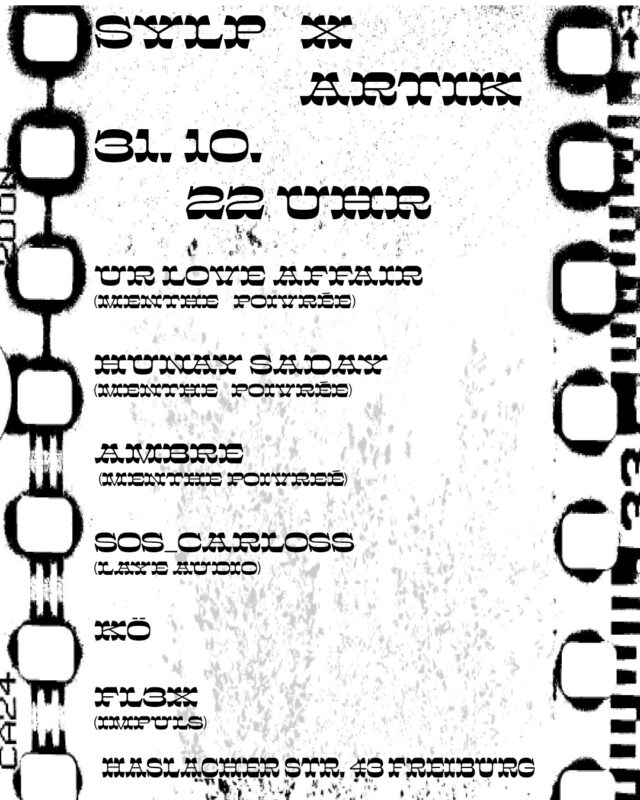 Design by: https://www.instagram.com/ineszltr/
we are back at ArTik Freiburg for our next event!
This time we give this space to young aspiring artists who we embrace for their work.
____
NO SPACE FOR RACISM, ANTISEMITISM, SEXISM or any other kind of Discrimination!
Awareness Team on site. Watch out for further informations!
____
Lineup
Auditorium [Breaks, Bass, Techno, House, Trance]:
consisting of Ambre, Hunay Saday and ur love affair – is a
collective based in Strasbourg, France that wants to bring a little freshness into the local scene. They
provide video streamings in local venues, organise events regularly where they invite friends and
inspirations and love to spread good vibes during their own performances. With their events,
Menthe Poivrée brings different creatives together to mix music with tattoo or nail art, illustrations
or even more. The aim is to create small mental spa moments and to open up the usual binarity
between the public and the stage. Menthe poivrée is always looking for new concepts and
collaborations, combining the fields of music, audiovisual and aesthetic. The three founders stand
for a diverse and inclusive music scene.
Empore [Dubstep, Drum and Bass, Leftfield Bass]:
____
31.10.2023 // 22.00 – 05.00 Uhr
Presale: 8,50€ – CLICK HERE!
Tickets at the door: 10€ before 00.00 // 12€ after 00.00
____
We are looking forward to dance with u again!
till then,
supportyourlocalparty